THE Q&A | Allison McNamara, Mara Beauty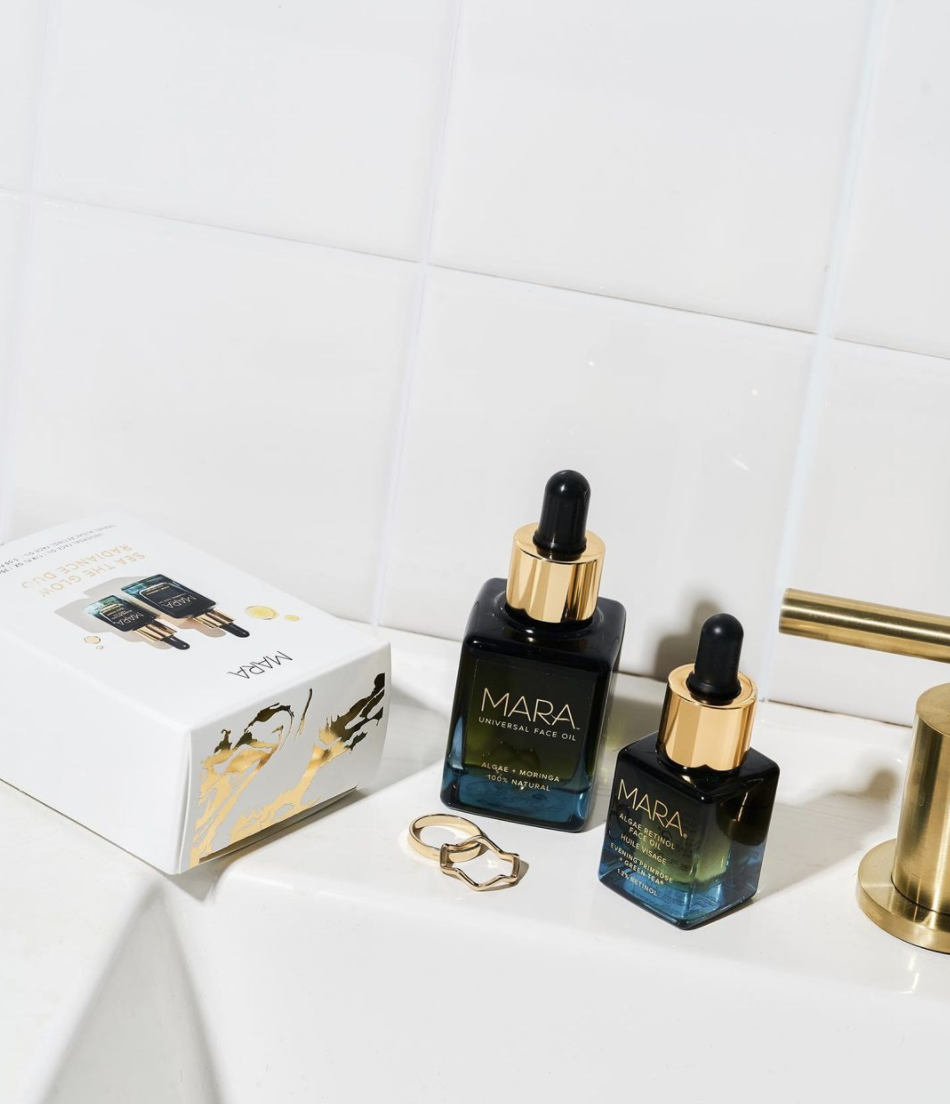 We are so excited to welcome Mara Beauty to our beauty and wellness sector - can you tell us a little bit about how yourself, how you started and your brand, and what inspired you?
I'm so excited to have MARA at Sisters & Co! I'm Allison McNamara, the founder of MARA — an award-winning line of algae-infused skincare. I grew up in a beauty household and always had lofty dreams of owning my own brand one day. I started my career as an on-camera host and journalist and worked as the Entertainment and Fashion host at POPSUGAR for years. After almost a decade on camera, two TV shows under my belt, and enough red carpet experience to last me a lifetime, I decided to pursue my dream of creating a line, that's now MARA. The idea consummated on a trip to Istanbul Turkey on the Sea of Marmara, which is where our name originates, and also pays homage to my last name, McNamara. I've always been obsessed with algae in skincare and wanted to find a way to do it in a really clean, chic way with a minimalist POV.
What makes Mara different? What is it that makes it special and a bathroom shelf must-have range?
I have curated this line down to the very basics so you can get the most incredible results with minimal effort. I have always believed in less is more, and intuitively treating your skin each day based off of its daily needs. Our products use the finest quality ingredients sourced globally, all while making sure they are safe-for-you, safe-for-planet, and are sustainable. Algae Retinol Face Oil is an example of how we can do clinical in a clean, elegant way — 1.2% clean retinol supercharged with rich natural sources of vitamin A from cacay and fermented green tea, plus our algae and superfoods like evening primrose and Abyssinian. Incorporating something like this into your evening routine is a surefire way to see the transformative powers of MARA.
You grew up in seaside California - how did this beautiful location play a role in establishing your skincare range?
I have always been inspired by the sea — everything from our main ingredient, algae, to the signature blue glass is inspired by my love of the ocean that was my backyard as a child, and combined with all the gorgeous places I've traveled over the years.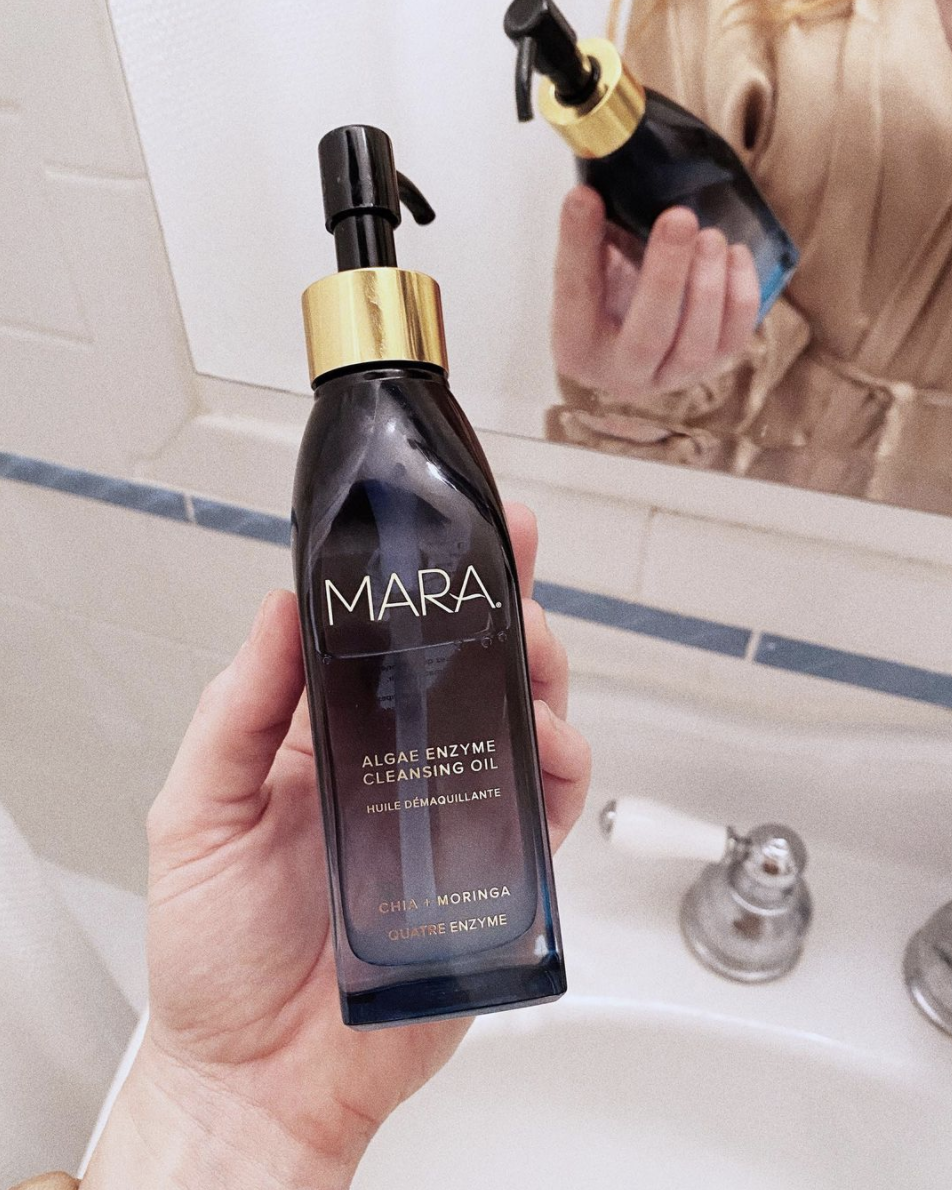 What is your skincare routine - what do we use when? I'm easy!
In the AM, I either damp cleanse with Algae Enzyme Cleansing Oil or just splash face with water. Apply Sea Vitamin C Serum, let that sink in, and make coffee. Then hydrate with Universal Face Oil or go straight to SPF. The key is to give your treatment some time before applying your SPF so your skin can soak in the goodness.
At night, I like to use Algae Enzyme Cleansing Oil as a mask 1-2 times a week. If I'm not doing that, I do a dry cleanse with it. Then, 3/4 nights a week I do Algae Retinol Face Oil, 1/2 nights a week I use an acid, and then 1 night a week I usually just go straight to Universal Face Oil. On the treatment nights, I always let that sink in, sometimes I'll gua sha, and then apply Universal Face Oil and a lip product before bed.
As well as beautiful products, what else can we do in our daily lives to help us glow?
Drink lots of water, eat the rainbow when it comes to your veggies, make sure you're supporting your diet with the necessary supplements — I love our Sea Vitamin C Glow with Moringa + Adaptogens for vitamin C, brightness and stress relief. Sleep is also so important for skin, it's when our cells regenerate, so doing whatever your need to do to wind down. I love magnesium and this herbal sleep supplement from Hush & Hush. Exercise is also important for glowing skin, I try and exercise at least 3/4 times a week.
Sustainability is a focus for us at Sisters&Co - what role does it play in your business?
Huge! We have a recycling program in the US where clients can send in their empties to be recycled through our TerraCycle Zero Waste boxes. I make sure to choose sustainable ingredients for our formulas, and omit ingredients that are toxic to wildlife, bioaccumulate in our water and food supplies, or are known endocrine dsitruptors. Our unit cartons are FSC certified and use low VOC ink, vegetable-based dyes, and are designed to have minimal paperboard waste. We also frequently partner with our favorite ocean-friendly charities on events to build awareness.