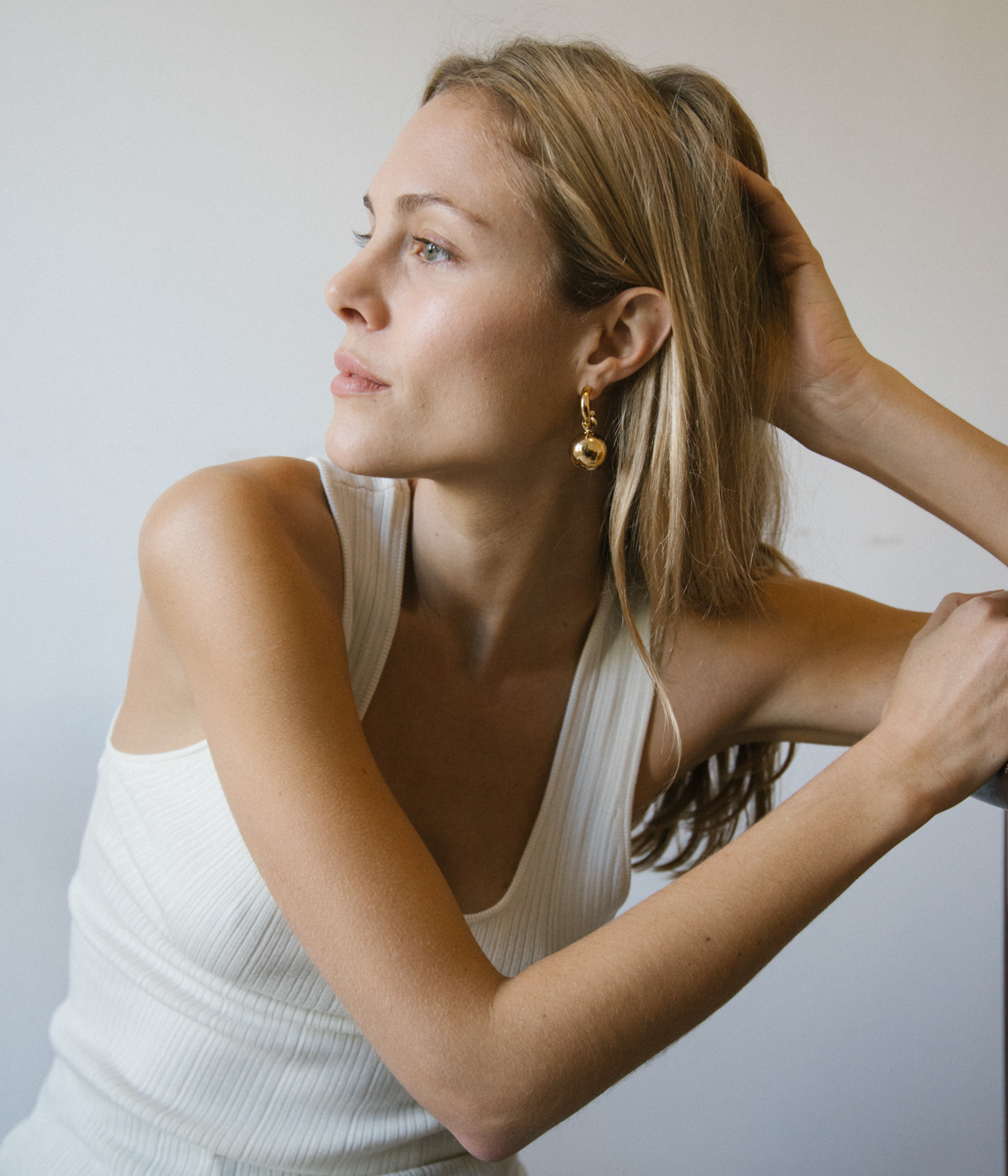 1. Can you tell us a bit about the Monarc story and what inspired you to start your brand?
I was living in Italy in my early 20s and during that time, I studied in Florence at the Gemological Institute of America. This armed me with a strong basis of jewellery knowledge, but my real industry education began through my experience at a global production company. The responsibility of co-designing and managing a number of European accounts for a jewellery manufacturing house taught me how to make seasonal jewellery collections, and working with a global clientele schooled me on a range of cultures and aesthetics.
Having seen some of my ideas utilised by other brands for several years, I gained the confidence to try it out for myself. In 2017 I took a leap of faith and started Monarc Jewellery & Concierge. My driving aim was to present intelligent design and premium materials, with a focus on bespoke service. Sustainability & ethical practice is at the core of Monarc's operations and brand decisions. I believe that every decision I make for Monarc should be rooted in good intention, from the design to choosing intelligent/carefully procured/considered materials, right along the whole production process, so those wearing Monarc can feel good about the jewellery that becomes a part of their lives.
2. Can you talk us through the collection we have in store?
At Sisters & Co you carry a selection of Monarc's demi-fine and fine collections. Fine jewellery made in 9k gold includes our sumptuous peacock pearl styles. You have Monarc's much-loved Huggies Hoops, which quickly become a wardrobe staple that you never have to take off. Huggies are made to be lived in, and are perfect for layering, stacking and curating into a personal ear story.
In demi-fine, which is silver and gold vermeil, you've got lots of sculptural and modern classics, such as the Josephine Orb Necklace, Scout Hoops and Hermione Hoops. Also, not to forget the pieces from Monarc's collaboration with Renee Stewart, the Courbure pieces! The Courbure rings are timeless yet statement making.
3. We have the beautiful Christina Macpherson co-design pieces in store, can you tell us a little bit about this collaboration?
The name of our co-design collection is Unum, Latin for together or oneness. It is also a nod to its collaborative nature. Despite what feels like a whole world between us, Christina and I found Mt. Maunganui and a love for the beach to be our common ground – striving for a slower, more peaceful, coastal existence inspired our Praesidio Shell design.
Christina puts it so beautifully: "It's a seemingly simple small thing – a shell on the sand, and yet it's been there longer than any of us, and will continue to be there far beyond our existence too. Generations of change will happen around that shell; it will be a part of movements and moments and ungrasp-worthy things. And yet we pass these things by every day, not really acknowledging all the stories they've witnessed, or the rise and fall of civilisations they've been a part of. I want these designs to serve as a reminder to honour the land we tread on and the oceans we swim in – they are so much bigger than any of us."
4. I understand you have strong ties with Mt Maunganui - can you explain this a little further and what it means to be a part of such a special place?
The Mount is where I grew up, and it is where all my family lives. Despite living overseas for the best part of 14 years, I still call Mount Maunganui home. It's an anchoring place and one to which I always return.
5. You're living in London, how have you navigated Covid and continued to draw inspiration throughout this period?
Covid has been at the forefront of life and business in London since March, much like the rest of the world. I'm not going to lie – it has been incredibly tough at times to find perspective, keep my head up and remain positive. My partner and I have both been working from home since March, often not seeing others for weeks on end. But when we have struggled, we have done so together and we are aware that there are many people out there in really desperate situations, so at the same time, we do feel fortunate that we have our health and our jobs intact.
Being a small, independent brand means that Monarc can be agile. I've found myself a lot busier with bespoke projects for customers during the Covid era. This has been a great source of my inspiration during this time. I've seen a surge in couples and families wanting to celebrate their commitment after a period of being at home, or perhaps apart. It could be time without the usual distractions of modern life that has given them pause to consider the things that really matter to them, and I am so grateful that I can be the maker of such a special token that marks their moments.
6. What are your current favourite pieces from the range?
I wear my Little Chubbies Hoops the most because they go with absolutely everything and serve me as a daytime to nighttime look. The Suitor Chain Necklace is also a favourite of mine, layered with finer diamond pendants that I have inherited. I haven't been out to dinner since the most recent lockdown began in November, so when I have something special planned for an evening out, I'll wear the Freddie Ball Hoops. They're bold with hints of a Studio 54 aesthetic, yet modern and versatile. I look forward to that!
7. How you'll be spending Christmas, what the holiday means to you and your favorite parts of the festive season?
This year's celebrations will be different. London has just been put back into Tier 3 (the most restrictive level of England's three-tier covid rules), so it's going to be a holiday spent at home with my fiancé, Per and my growing baby bump. There will be many hours spent on FaceTime with my family in the Mount, and I'll insist they take me on a virtual trip to the beach with them.
After a hectic month, I am looking forward to some slower days, a bit of self-care and checking in with friends & fam. X