MUSES: Natalie Knoll and Macayla Chapman of Bird&Knoll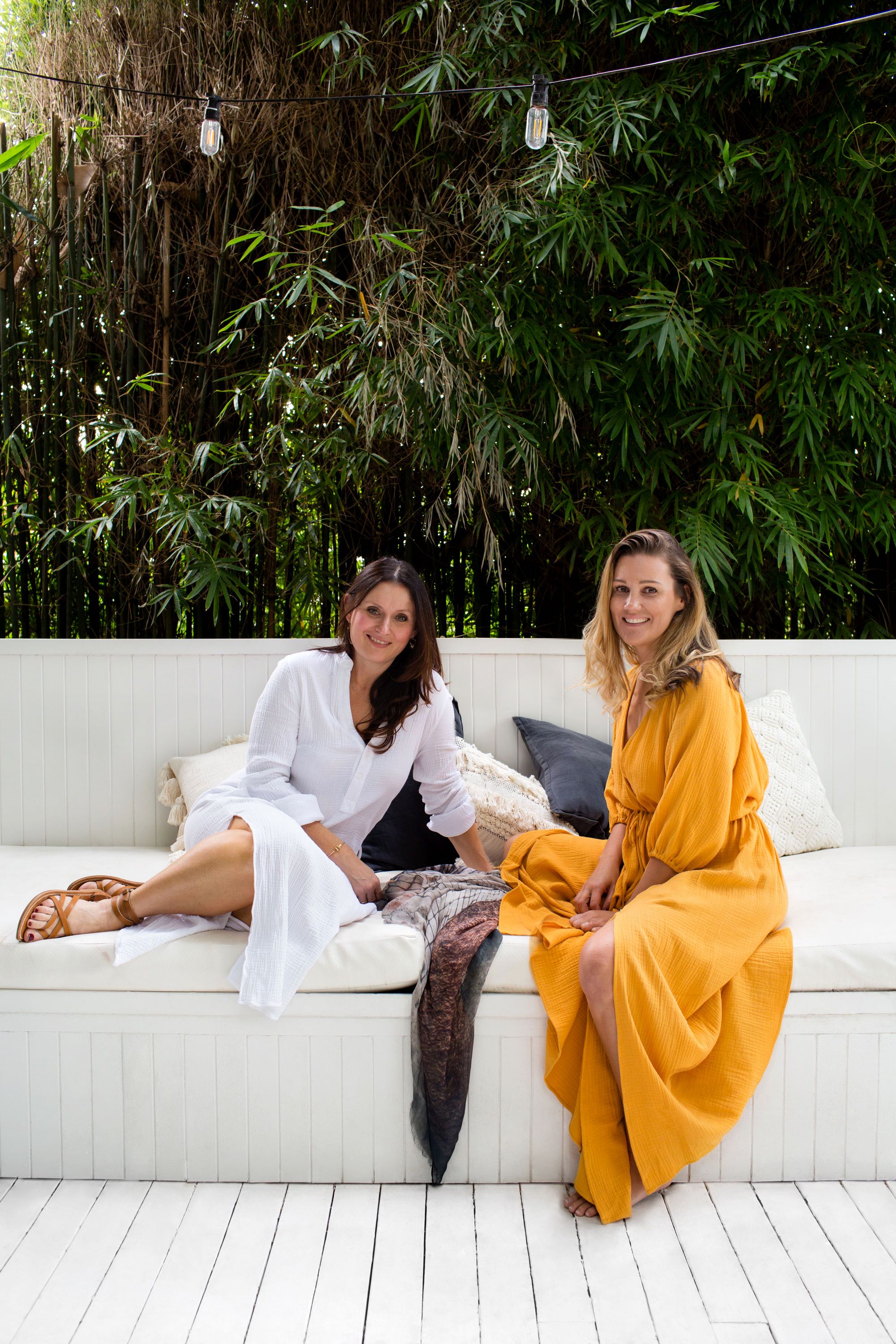 We love Bird and Knoll, it is certainly a favourite of ours, what's your favourite ever piece you've designed?
MC: Ohhh so hard to pick a favourite overall...I definitely have a favourite in each collection. From the current collection I would have to say the Clemence Maxi in the Cinnamon colour way (huge crush on this colour at the moment too). The Clemence is a dream dress, so beautiful and floaty to wear and really flattering in fit. Perfect for summer evenings, I team it with leather sandals to complete the look...that's all it needs !
What is the design aesthetic behind Bird and Knoll?
NK: Bird and Knoll's original genesis was from a love of travel and we try and inject that sense of escapism into our collections – mood-elevating pieces that can effortlessly take you from every day to balmy vacations. We are so lucky with our antipodean lifestyles to live very "resort-style" and so our collection pieces are designed to be sophisticated but wearable or as we like to call it "romantic sensibility."
Who are some other Australian designers you admire?
NK: I think that there are certain elements of different Australian designers that we admire. The romance of Zimmermann, the pioneering fabrics and methods of Dion Lee, the interesting and surprising shapes from Lee Matthews, ….There is a plethora of talent here that I think translates our Australian lifestyle and ethos in beautifully unique but very wearable ways.
Where do you find your inspiration?
MC: I'm sure it's different for everyone but for me inspiration can be found in anything, sometimes in the smallest and most ordinary of things, a mood or feeling I get when I see the way the morning light hits the ocean, or the shape a linen curtain makes when blowing in the breeze...my love for travelling plays a big part - having my creative mind and eye opened up by new experiences, cultures and all that goes with it. I also love to trawl the internet looking at things I find beautiful - photography, design, interiors …. it all builds into a story and the outcome is a collection.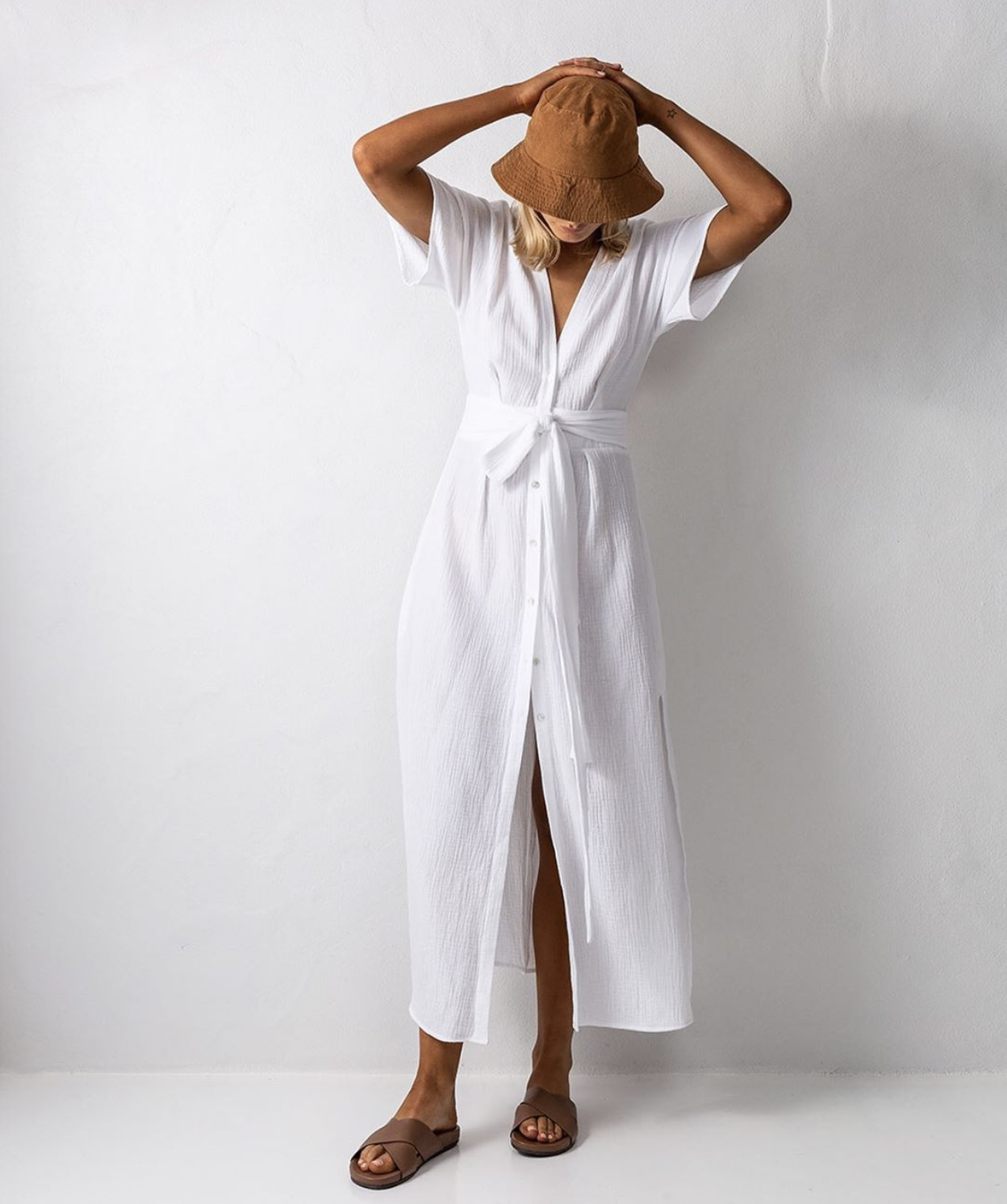 Talk us through your passions outside of Bird and Knoll…
MC: Travel is a big one, a passion for both Nat and I and something we love to do with our families. I try to always have some sort of trip or adventure booked in to look forward too, gets me through those days that don't go quite as planned. I adore animals and people seem to always laugh when we tell them about our beloved bunny Broccoli who cruises free range around the house (with our two cats) … oblivious to the fact he is actually a rabbit. We are super attached to our pets and it really breaks my heart to see the devastation the horrendous bush fires in Australia are causing not only to the wildlife, but all those affected. It was an obvious decision to help in our own small way with a donation of 100% of our online profits for 48 hrs to the Australian Red Cross and the WIRES Wildlife Rescue.
What are your top wardrobe staples?
MC: The Alejandra Maxi is a favourite of mine, I have multiple colours in this style and I love the versatility of this dress, especially when travelling I wear it to the beach over a bikini and it can easily be dressed up for evening with the addition of some statement earrings and a clutch . The Yasmine Skirt and Lila Cami in Merlot are also on high rotation in my wardrobe at the moment - worn separately and together this is a combination that always makes me feel feminine and stylish.
NK: I love the Theodora jumpsuit. It is one of those surprising staples that gets a comment every time I wear it. And it is SUPER comfortable! We have had such a great response to it that it is now a part of our Essentials collection so our customers can look forward to seeing it in different colour offerings every season.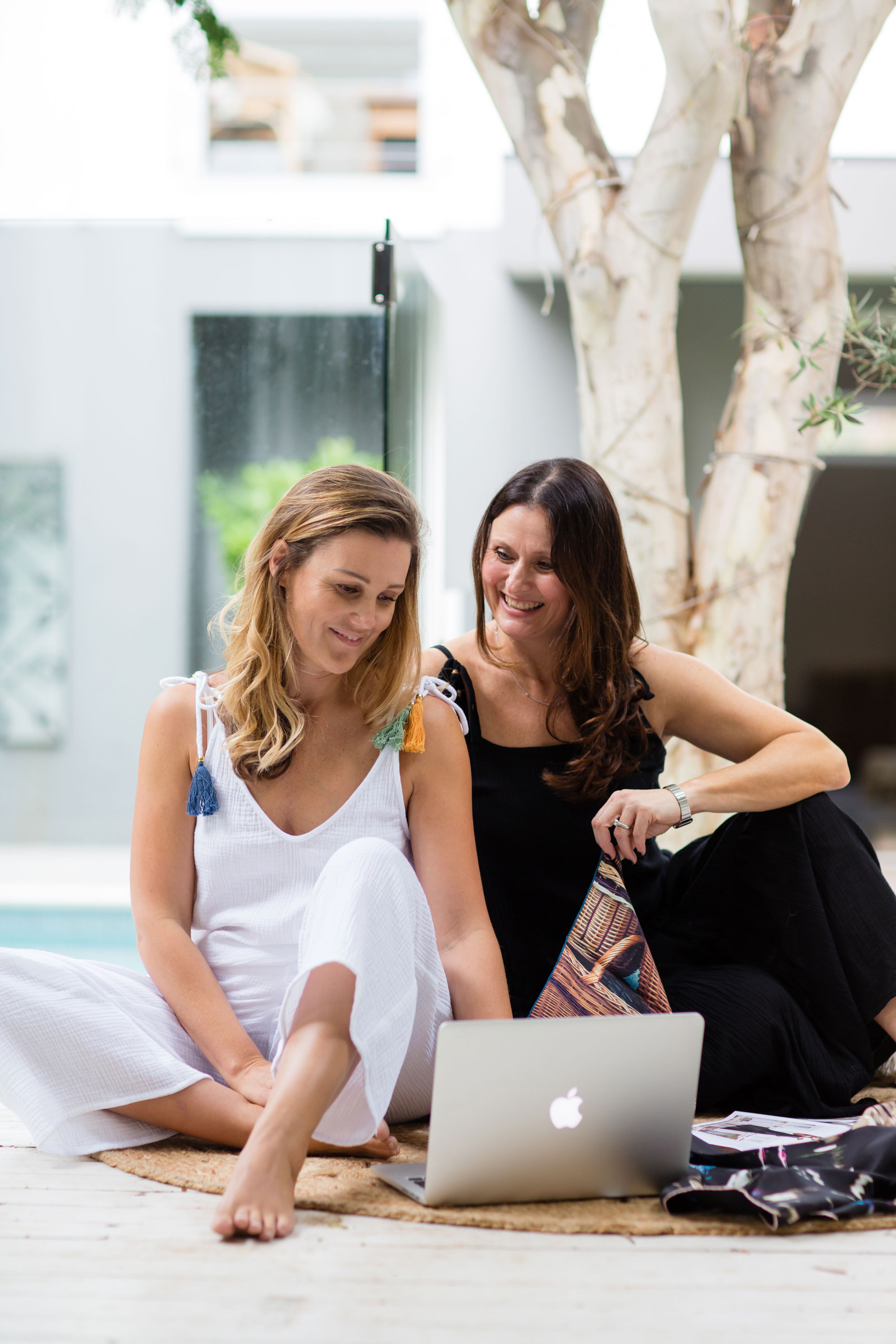 What do you love most about Bird and Knoll and all that goes with it?
MC: I love the feeling I get when I wear Bird & Knoll..feminine, effortless and luxurious. I love the way our garments can so easily transition from holiday to everyday dressing and the way these beautiful pieces can be worn dressed up or dressed down - so versatile. The fabrics are an integral part of all of this - all natural fibres that work so well in our busy lifestyles.
NK: I do love how the feedback that we get about the brand mirrors our own experience with it – I know then that we are doing something right. It makes me feel feminine and sophisticated but comfortable and I adore the versatility!
How will you be spending the rest of your summer?
MC: … at the beautiful NZ beaches we are spoilt to be surrounded by.
NK: We are also fortunate to be surrounded by a lot of beautiful beaches here in Sydney although with the horrendous air quality these days it is not easy spending a lot of time outdoors. There is a big call out for a lot of supplies for communities that are needed so I think that I will get my two teenage daughters to join me in helping out at one of the charities driving this.
What's your ideal weekend away…
MC: … sun, sand, pristine waters, family, friends, good food and a perfectly mixed chilli margarita
NK: Hard to go past what Macayla just described. Although I will have a G&T please!